Indulge in a Culinary Extravaganza: Friday Seafood Night at 2 Seasons Dubai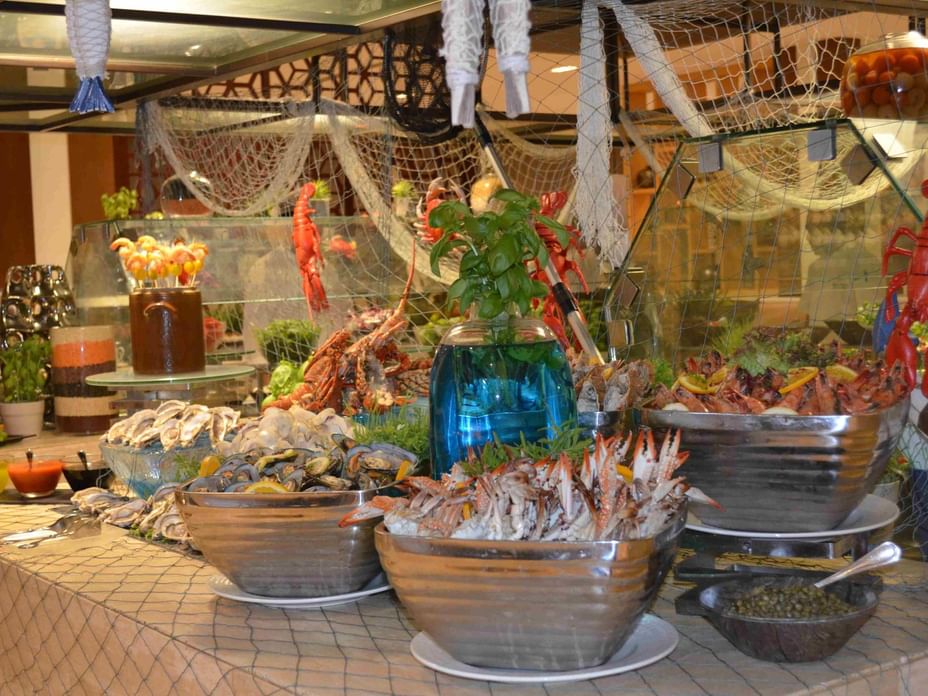 The Best Place for a Seafood Adventure
2 Seasons Hotel is renowned for its luxurious ambiance and is one of the fine dining restaurants in Dubai. The Friday Seafood Night is a culinary spectacle that seafood enthusiasts cannot afford to miss. The experience begins from the moment you step into the elegantly decorated restaurant, with the inviting aroma of fresh seafood whetting your appetite.
One of the highlights of the evening is the extensive seafood buffet that showcases the finest treasures from the sea. From succulent prawns and plump oysters to perfectly grilled fish and flavorful crab, the array of options is a seafood lover's dream come true. The chefs at 2 Seasons Dubai take pride in sourcing only the freshest ingredients, ensuring a dining experience that is both indulgent and sustainable.
The star of the show is undeniably the seafood market, a captivating display where guests can handpick their favourites. The market boasts an impressive selection of seafood, expertly laid out on ice to preserve its freshness. The interactive element adds a delightful touch, allowing diners to engage with the culinary process and customise their plates to suit their preferences.
What is on offer at the Friday Seafood Night at 2 Seasons Dubai
The culinary journey doesn't stop at just the seafood; the buffet extends to the grill corner, where skilled chefs prepare sizzling dishes for guests. From sizzling grilled lobster to aromatic seafood paella, there is a unique and immersive experience around every corner. The chefs are not only masters of their craft but also passionate about sharing their culinary expertise, creating an atmosphere that is both educational and entertaining.
To complement the exquisite seafood spread, 2 Seasons Dubai offers an extensive selection of premium soft drinks and non-alcoholic beverages for guests.
The ambiance of Friday Seafood Night is charming and exquisite, adding a touch of sophistication to the evening. You can indulge in exquisite culinary delights while enjoying breathtaking vistas at this dining restaurant, where culinary artistry meets a captivating ambiance for an unparalleled dining experience.
Some key Information about the event
Offer is valid for dine-in only at La Terrasse restaurant.
This offer is available every Friday between 19:00 and 23:00.
Food and soft drinks will cost AED 250 net per person.
No sharing of meals with the same offer.
This deal cannot be combined with any other offers.
Younger children dine for free, while those aged 6 to 12 receive a 50% discount.
No takeout is permitted.
The Friday Seafood Night at 2 Seasons Dubai is a gastronomic journey that captivates the senses and leaves a lasting impression. It is one of the best places to eat in Dubai. From the freshest seafood to the impeccable service and inviting ambiance, every element is carefully curated to ensure an unforgettable dining experience. Whether you're a seafood connoisseur or simply looking to elevate your Friday night dining, 2Seasons Dubai promises a culinary adventure that exceeds expectations.