Explore the Best Hotel Apartments in Dubai for a Memorable Extended Stay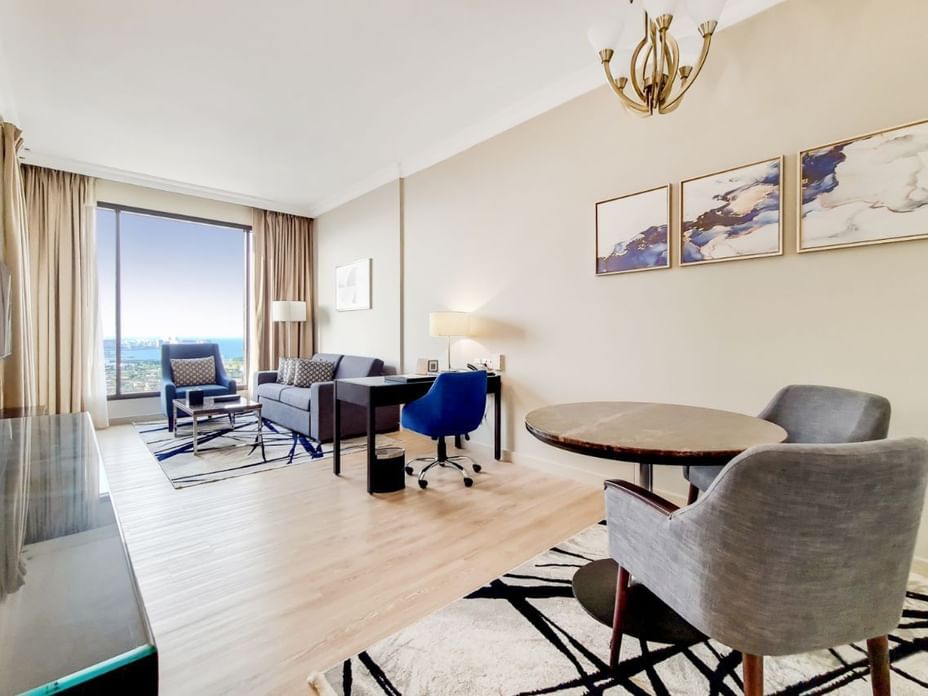 Mention Dubai and the first thing that pops up in anyone's mind is a glitzy metropolis, with magnificent architecture, an opulent way of life, and dynamic culture. If you want to fully immerse yourself in the wonders of Dubai, it's crucial to discover the absolute best place to stay.
Whether you're visiting Dubai for business or pleasure, finding the perfect accommodation is essential for a comfortable and enjoyable stay.
Hotel apartments offer a perfect solution for families seeking a little extra space and budget-conscious travelers looking for cost-saving opportunities. With the ability to enjoy separate rooms and a kitchen, hotel apartments provide added convenience and flexibility, making them an ideal choice for those traveling with children or on a tighter budget.
The Perfect Home Away from Home
If you need to know where to stay in Dubai that will keep you constantly active, spoil yourself by staying in the best hotel apartments in Dubai.
Located in the heart of Dubai's bustling business district, Two Seasons Hotel Apartments in Sheikh Zayed Road Dubai stands out as a top choice. Here you will find a range of beautifully designed apartments that cater to your needs and preferences. From spacious one-bedroom apartments to luxurious two-bedroom apartments, they have the perfect accommodation to suit every traveler's requirements.
Spacious One-Bedroom Apartments for Couples and Individuals
For individuals or couples traveling to Dubai, the one bedroom hotel apartment in Dubai at Two Seasons provides a cozy and stylish retreat. These apartments are thoughtfully designed with contemporary furnishings, modern amenities, and a well-equipped kitchenette.
With the elegant living area, you can unwind after a long day of exploring the city, and the bedroom offers you a comfortable haven for a restful night's sleep. With attentive service and a range of convenient facilities, these one-bedroom hotel apartments ensure a memorable stay in Dubai.
Luxurious Two-Bedroom Apartments for Families and Groups
If you are visiting with families or groups of friends and looking for more space and privacy, you will find the two bedroom hotel apartment in Dubai at Two Seasons Hotel & Apartments an excellent choice. These spacious apartments are designed to provide a comfortable and welcoming environment for guests.
With separate living and dining areas, fully equipped kitchens, and two bathrooms, you can surround yourself with the comforts of home. Whether you're traveling with children, friends, or both, the two-bedroom apartments give you ample space for everyone to relax and enjoy their stay.
The Prime Location
One of the standout features of Two Seasons Hotel Apartments is its prime location on Sheikh Zayed Road. With this central position, you can get easy access to Dubai's major attractions, business centers, and shopping districts. From the hotel, you can have the privilege to explore popular destinations such as the Dubai Mall, Burj Khalifa, and Jumeirah Beach.
The well-connected transportation network in Dubai offers an authentic Dubai experience, ensuring you can reach any part of the city with ease.
Unparalleled Amenities and Services
Apart from the excellent location, you can pamper yourself with a range of amenities and services and enhance your overall guest experience. The hotel features a fitness center where you can maintain your workout routine, a rooftop swimming pool with panoramic city views, and a spa where you can indulge in rejuvenating treatments.
The attentive and friendly staff are always available to assist you with any requests or inquiries, ensuring that your stay is as comfortable and enjoyable as possible.
When it comes to finding the best hotel apartments in Dubai, Two Seasons Hotel Apartments on Sheikh Zayed Road is the ultimate choice.
With its well-appointed one-bedroom and two-bedroom apartments, convenient location, and excellent facilities, it provides the perfect setting for a memorable extended stay in this vibrant city.
Whether you're visiting Dubai for business or leisure, the hotel's comfortable accommodations, impeccable service, and central location make it an ideal choice.
So, when planning your next trip to Dubai, make sure to book your stay at Two Seasons Hotel & Apartments for an unforgettable experience. Explore the best hotel in Dubai and create lasting memories in this captivating city.