Grill Up Your Winter Evenings: BBQ Nights at Two Seasons Hotel and Apartments Are Back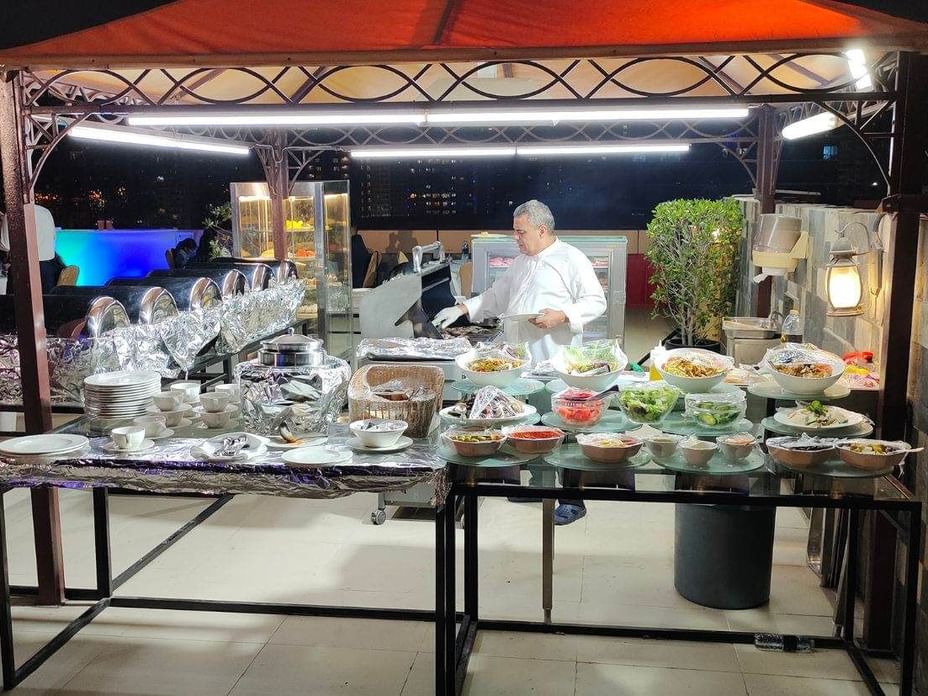 A cozy evening by the pool, surrounded by the laughter of friends and family, the aroma of sizzling grills, and the promise of delectable delights. It's not just a meal; it's an experience, and it's all back at our Pool Bar.
A Flavorful Experience Awaits You at BBQ Night
As you sit by the pool, surrounded by the cozy ambiance and the gentle glow of evening lights, you'll be transported on a global culinary adventure at this best place for barbecue in Dubai.
From smoky barbecues reminiscent of the American South to succulent kebabs inspired by the Middle East, our menu showcases the best of international flavors. The crackling sounds of grilling echo the passion our chefs pour into every dish, ensuring that your dining experience is not just a meal but a memorable event.
The savory scent of marinated meats fills the air, creating an anticipation that only intensifies as the dishes arrive at your table. Pair these delectable delights with refreshing beverages and the company of friends and family.
Panoramic Views and Pleasant Ambiance
With one of the best outdoor BBQ places in Dubai, you can picture yourself seated by the pool, under the starlit sky, surrounded by the glittering Dubai skyline. The ambiance at the Pool Bar is nothing short of magical. As you indulge in our BBQ specialties, you are treated not just to exquisite flavors but also to panoramic views that stretch out to the horizon.
The city lights reflect on the water, creating a serene and enchanting atmosphere that complements the culinary delights perfectly.
Exceptional Offerings
Our Saturday BBQ Nights kick off at 19:00 hours and continue until 23:00 hours, giving you ample time to unwind and savor every bite.
This exclusive offer is valid for dine-in only at our Pool Bar, priced at just AED 149 net per person.
Enjoy the delectable food along with complimentary non-alcoholic beer and soft drinks.
Family Friendly Offers:
Kids below 6 years old dine for free.
For children between 6 and 12 years old, there's a generous 50% discount, making it an affordable and delightful experience for families.
Book Your Table for BBQ Night Today!
Join us at one of the best BBQ places in Dubai! Don't miss out on the chance to enjoy the best grills in Dubai. Tables are filling up fast, so secure your spot today for an evening filled with flavors, laughter, and warm hospitality. We look forward to welcoming you for an unforgettable dining experience!