Best Sushi Restaurant in Dubai: Where Every Bite Tells a Story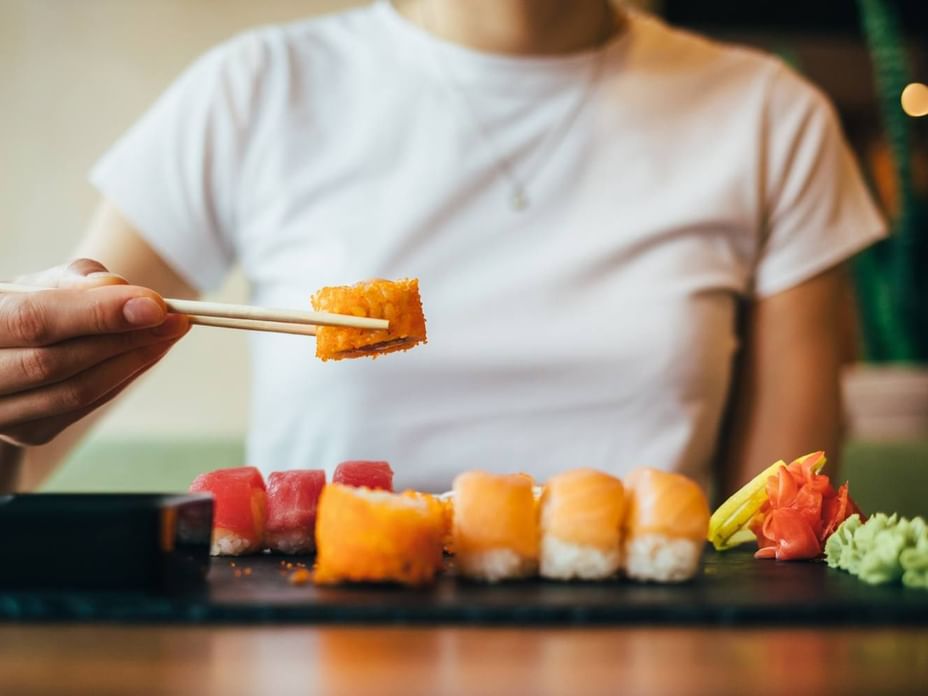 Even though sushi is a renowned Japanese cuisine, one thing is clear: You can find sushi enthusiasts all over the world and Dubai is no exception. That's why many restaurants in Dubai have a separate menu for sushi lovers.
Though this dish traditionally included fermented rice and salted fish, it has evolved and overruled over time into various versions that even make vegetarians crave a bite.
These days, you may get many best sushi places in Dubai but there are only a few that serve authentic sushi options.
Best Sushi Restaurant in Dubai
Sushi Café is nestled in the heart of Dubai right next to the Internet City Metro Station on the ground floor of Two Seasons Hotel and Apartments. The moment you step in, you're welcomed by an inviting ambiance that promises a unique dining experience. Whether you're in the mood for a relaxing dine-in or need a quick take-out meal, this café offers both excellent service and the best sushi in Dubai.
An Authentic Japanese Culinary Experience in Dubai
Who doesn't have a favorite sushi ingredient? Is it the melt-in-your-mouth goodness of salmon or the delicate flavor of tuna? Whether you prefer your sushi hot or delightfully raw, the Sushi Café at Two Seasons Hotel and Apartments is sure to serve you the best.
Get ready to relish yourself with mouthwatering selections of over 30 dishes that are perfect for your unique appetite. From classic and traditional choices to innovative creations, this café ensures your sushi experience is a memorable one.
Find a Bounty of Vegetarian Sushi Options
Not a meat lover? Well, here's some good news for you: There's an abundance of vegetarian sushi options just waiting to be explored. Japanese cuisine naturally features a variety of vegetables, so you'll discover a plethora of fantastic choices that satisfy your hunger without any meat. Sushi Café, one of the best Asian restaurants in Dubai has expertly curated a menu that bridges this gap.
Start with our Vegetable Gyoza and Tempura, where crisp textures meet a burst of savory goodness.
Delve into the refreshing crunch of our Cucumber Maki, a roll that's a celebration of simplicity and taste.
For those seeking a vibrant and hearty option, our Poke Bowl offers a symphony of colors and flavors that's as satisfying as it is nutritious.
Experience More Than Just Food
But the experience at Two Seasons Hotel's Sushi Café isn't just about the food; it's about the ambiance, the company, and the memories you create.
The cozy setting is perfect for intimate evenings with your loved ones or catching up with a few friends over a table laden with sushi delights.
The café's ambiance enhances the flavors of each dish, creating an atmosphere where every bite becomes an emotion.
Summing Up!
Whether you're a vegetarian seeking a flavorful adventure or want to explore the world of sushi, your hunt for the best Asian restaurants in Dubai ends with the Sushi Café. We have a delectable menu. The blend of authenticity and vegetarian options in our dishes ensures that every visit is a step into a world of taste and emotion.
So, if you're in Dubai and looking for a place to relish the best sushi in Dubai, head to the Sushi Café at Two Seasons Hotel and Apartments. Your taste buds will thank you, and you'll leave with a heart full of culinary joy and satisfaction. Your next sushi adventure awaits!