Squash Tournament on UAE National Day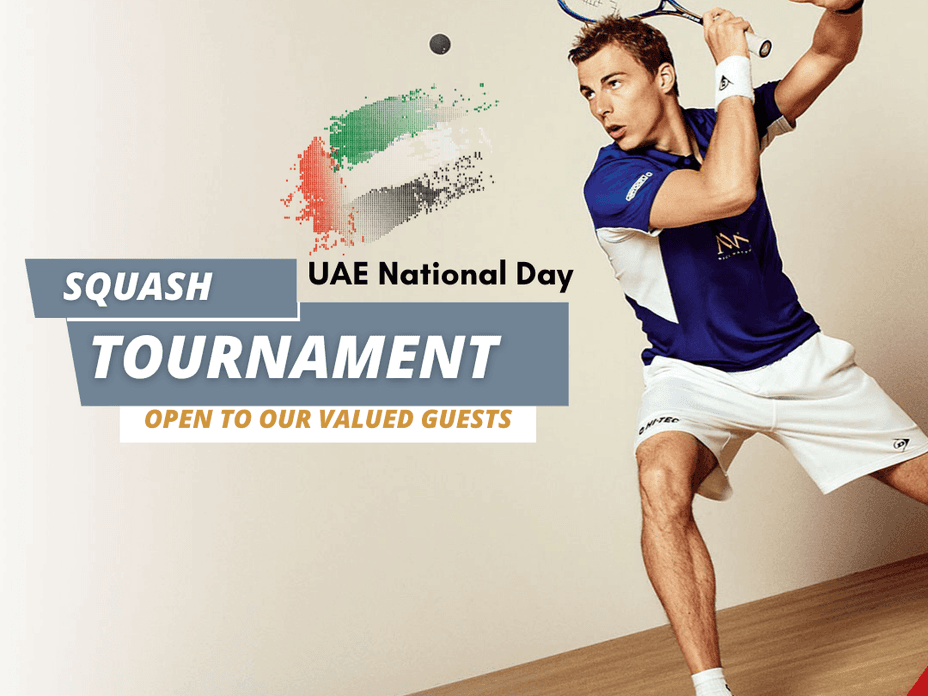 Setting the Stage:
The 2 Seasons Hotel, nestled in the heart of Dubai, has always been a beacon of luxury and entertainment. With its modern amenities and commitment to providing guests with a memorable experience, the hotel is the perfect venue for an event that combines sport and celebration.
Details that Matter:
The tournament, scheduled for December 2nd and 3rd, 2023, from 10 am to 3 pm, is open to all hotel guests. Whether you're a seasoned squash player or someone looking to try their hand at a new sport, this event caters to all levels of expertise. With a registration fee of AED 100, participants not only secure their spot in the competition but also contribute to the vibrant atmosphere of the tournament.
The Thrill of Competition:
Day one, on December 2nd, sets the stage with elimination rounds, where players will battle it out for a chance to advance to the finals. The air will be thick with tension and excitement as competitors showcase their skills and determination. It's not just about winning; it's about the journey, the challenges faced, and the friendships forged on the court.
The Grand Finale:
December 3rd marks the grand finale of the tournament, where the finalists will go head-to-head in a showdown of skill and strategy. The atmosphere will be electric as spectators witness the culmination of 2 days of intense competition. Following the final match, an awarding ceremony will honour the winners, adding a touch of prestige to the celebration.
How to Join the Action:
2 Seasons Hotel has made it incredibly easy for participants to register. Whether you prefer the convenience of a phone call, an email, or a direct visit to the reception desk, the process is simple and accessible. With the deadline approaching, now is the time to secure your spot and be part of this sporting extravaganza.
Beyond the Court:
While the Squash Tournament in Dubai is a central focus, 2 Seasons Hotel offers a myriad of amenities to make your National Day celebration truly unforgettable. Indulge in the hotel's exquisite dining options, unwind at the spa, or take in the breathtaking views of Dubai from the 41st floor. The tournament is not just an event; it's an opportunity to experience the best hotels rooms in Dubai.
Serving Up Excitement: Squash Tournament on UAE National Day at 2 Seasons Hotel
The 2 Seasons Hotel Squash Event on UAE National Day is more than a sporting event; it's a celebration of the spirit that unites us all. Whether you're a participant, spectator, or simply a guest at the hotel, this tournament is a testament to the commitment of 2 Seasons Hotel to provide experiences that go beyond the ordinary. So, gear up, register, and get ready to be part of a smashing celebration that combines sport, luxury, and the vibrant energy of the UAE.