Elevate Your Stay: Enjoy 2 Nights + Free Tickets to The View & Palm Monorail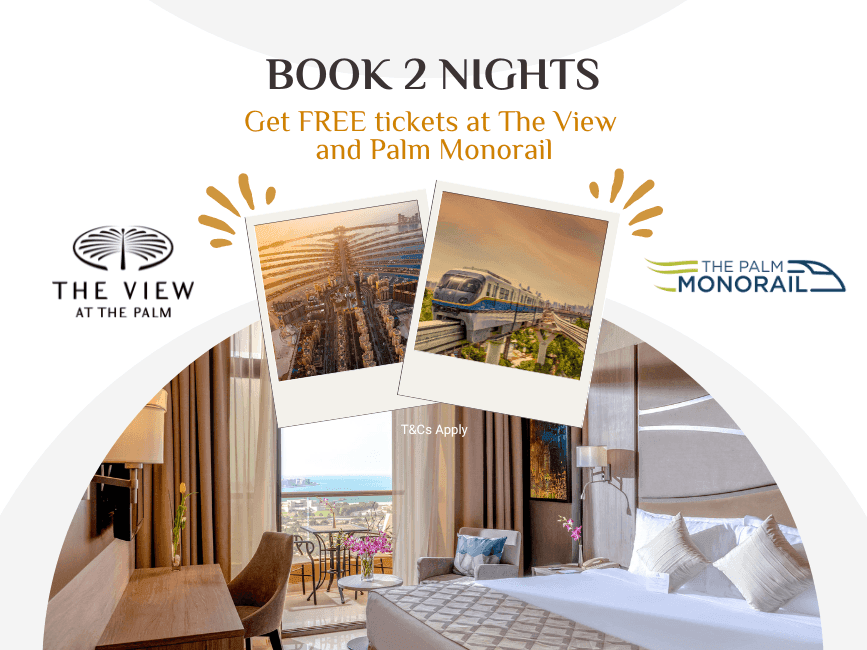 Two Seasons Hotel and Apartments, a hotel stay in Dubai offers you the most exclusive deal to make your stay more memorable!
Yes, you heard that right!
Imagine booking a relaxing 2-night stay with breakfast and receiving The View and Palm Monorail tickets for FREE!
What Does the Best Hotel Stay in Dubai Offer?
Get ready to indulge in this luxury vacation as you book a 2-night stay at Two Seasons Hotel and Apartments.
You will be welcomed to a comfortable room, you can choose as per your preference from a deluxe suite with the city to a premium suite with a view.
Get ready for an amazing treat because your breakfast for the next two days is totally taken care of in the hotel stay offers!
Grab the chance to discover incredible attractions without paying anything extra!
You'll receive tickets to The View and the Palm Monorail, immerse yourself in the beauty and excitement of this lavish city.
Discover The View at the Palm
The View at the Palm Monorail Dubai is a mesmerizing observation deck located on Level 52. Here, you can take in breathtaking panoramic views of the iconic Palm Islands, the stunning cityscape, and the tranquil Gulf waters. It's nothing less than standing on the clouds and witnessing Dubai's grandeur from above. For an extra tip, seize the opportunity to witness Dubai's sunrise and sunset from The View, an experience that promises to leave you spellbound. The View boasts the city's most exceptional infinity pool, an encounter that deserves a spot on your Dubai must-do list.
What's In for Families and Kids?
Families with kids below 12 years of age are in for a treat!
For each paying adult, one child below the age of 12 years can now enjoy free access to The View.
However, in the case of two kids accompanied by one paying adult, one child will receive free entry, and the other child will pay the standard fee.
This Kids Go Free offer is valid until August 31, 2023, make sure to plan your getaway to make use of this fantastic opportunity.
Explore the Palm Monorail
But wait, there's more! Your package also includes a Palm Monorail ticket, granting you an unlimited day pass to explore various stations (excluding the Pointe station). This modern monorail offers a unique way to travel along Palm Jumeirah, showcasing its beauty and charm. It's an experience that adds a touch of excitement to your Dubai journey.
Important Details to Note
While this hotel offers in UAE is no less than an unforgettable getaway experience in the UAE, there are a few essential things to remember.
Transportation from your hotel to the Palm Monorail station is not included in this package, so make sure to plan your journey accordingly.
This offer cannot be combined with any other ongoing promotions or rate offers.
All You Need to Know About Booking Details and Dates
This incredible deal is available from August 17 to September 30, 2023.
To take advantage of this limited-time offer, use the promo code FREEPVM when booking.
Remember, these tickets are available for use during the NON-PRIME HOURS, which are from 10:00 am to 3:30 pm.
The clock is ticking, so don't miss out on the chance to create lasting memories with your loved ones in Dubai.
Make Your Bookings Today!
Dubai is a city that never fails to captivate with its modern marvels and timeless charm. And now, with the exclusive 2-night package in one of the best hotels in Dubai, your escapade becomes even more special. Imagine waking up to luxurious accommodations, indulging in a delightful breakfast, and then setting out to explore The View at the Palm and the Palm Monorail, all for free!
So why wait? Book now and seize the opportunity to witness Dubai's splendor from new heights and perspectives.
Whether you're a tourist seeking new adventures or a Dubai resident looking for a staycation to remember, this offer promises to make your journey unforgettable. Embrace the magic of Dubai – book your getaway today!