Blood Donation in Dubai
Two Seasons Hotel and Apartments employees joined hands to save lives.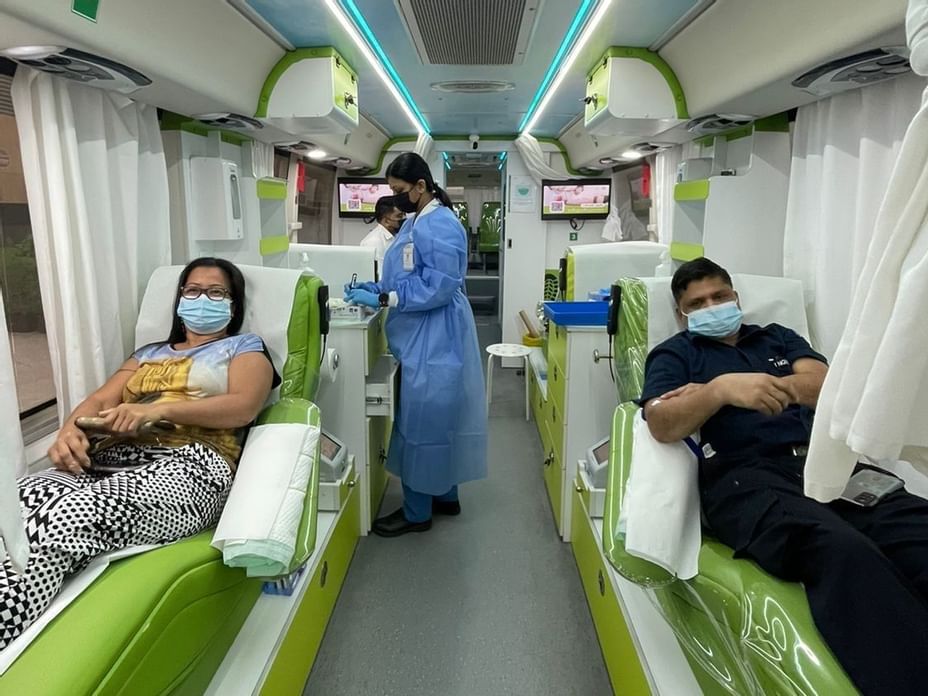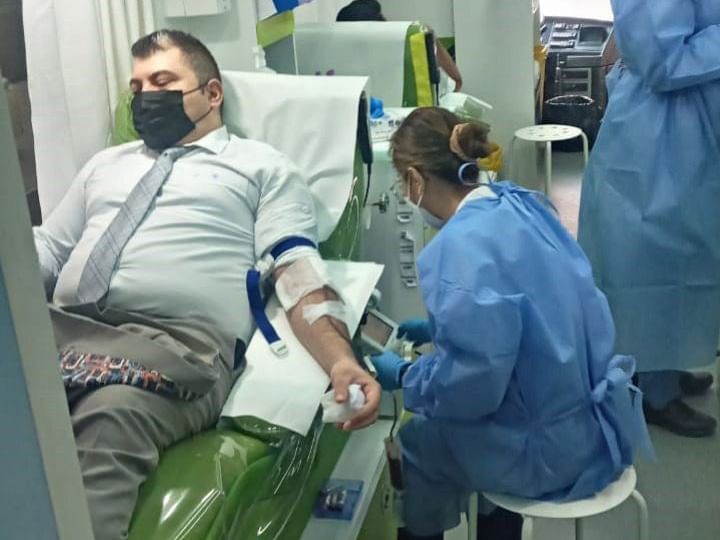 Benefits of blood donation
There cannot be completion to the benefits of donating blood for needy people. According to the Emirates Red Crescent, one donation can save up to three lives, and someone needs blood every minute across the world.
It is proved that donating blood benefits donors too. It helps emotional and physical health. Firstly, the donor organism is constantly self-renewing due to reduction of blood and its components from the body. Once you donated blood your body gets the signal: it's time for renewal. And this is the prevention of heart diseases, foci of inflammation, the immune system, the gastrointestinal tract, the functioning of the liver and pancreas. Donating blood at least once a year could reduce your risk of a heart attack by more than 50 % highlighted in American Journal of Epidemiology. High levels of iron in the blood compress vein and create more risk of a heart attack. After donating blood a body will self-renew with new less iron blood that gives more space to your veins to operate. This type of altruistic interaction has sufficient positive and stimulating effect too, so most of donors are active and cheerful people. Donating blood is good for you, and it's better for all those who despairingly looking for help.
Blood drive campaign.
The blood donation corporate campaign successfully brought more than 30 employees together at mobile Dubai Blood donation center on 8th of July 2022. Everyone participated to promote public health and wellbeing.
To guarantee the reliability of the blood supply and safety, a donor must be fully vaccinated against of Covid-19 and strict preventive measures were undertake for health checkup, including blood pressure and body temperature analysis prior to donating blood. They were also required to complete a detailed questionnaire to ensure their suitability for taking part in the campaign.
We know that with the ongoing support of the relevant healthcare activity, Two Seasons Hotel and Apartments plays small but important role in support of this vital healthcare campaign which will help save the lives of people in need. As a company, we are proud to commit to corporate social responsibility.
Who can give blood in Dubai
Almost any healthy resident with valid emirates ID can donate blood In Dubai. Blood donors must meet some basic requirements. The following are some of the main recommendations:
Blood donor should be between 18 – 65 years old;
Pregnant and lactating women are not eligible to donate blood for the sake of her and her baby's health;
People with malaria illness record are not suitable to donate;
Bodyweight should be at least 50 Kg (donors who are less than 21 years old must be 55 kg and above);
Blood pressure should be between 60/100 to 100/160 mm Hg. Donor's pulse rate should be in range of 60100 pulse/minute;
Three days before the donation, refuse to take analgesics and aspirin. These medications worsen blood clotting;
Avoid to eat fatty, fried, spicy and smoked foods, as well as dairy products, chocolate, nuts and dates at least 12 hours before donating. Otherwise lipid metabolism will be disturbed, and a blood serum will be fatty. Therefore the donated blood will be utilized;
After travelling outside of the UAE, you be required to wait 14 days before donating. If you travelled to a malariaendemic country, you will need to wait for one month before you are able to give blood.
Don't donate blood if you have a cold, flu, sore throat, herpes, indigestion, or any other infection.
Blood donations programme in Dubai goes all year round. Healthy people can give blood every 56 days, therefore helping to increase level of blood supply and components through the country. In addition, participation in donation is a constant and free monitoring of your health!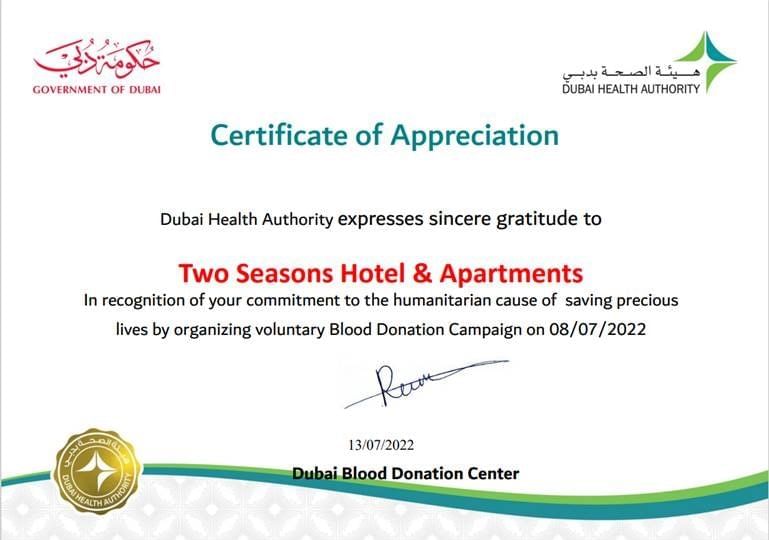 To make a donation in Dubai or find out more about the procedure, call (04 219 3221) or visit www.dha.gov.ae, where you'll find everything you need to know.
For more Two Seasons Hotel and Apartments news releases, click here.